Goodridge Brake Lines Hoses and Fittings
Royal Enfield - 1953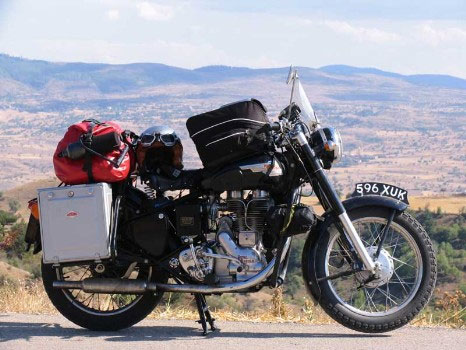 Motorcycle author and classic bike devotee, Gordon May, embarked on a two month ride from Manchester, UK, to Chennai, southern India, August 2008.
The intrepid rider faced many challenges on his long journey, including harsh climates; tough terrain, especially in the Baluchistan Desert in Pakistan; language difficulties; border-crossing bureaucracy and what are generally acknowledged to be some of the worst driving standards on the planet. The biggest challenge he faced, however, came from his bike. It's a 1953 Royal Enfield.
Gordon was upbeat about dealing with any mechanical issues he may have encountered while riding a 55-year-old machine. His optimism was backed by K300.
"The oil pump spindle is notoriously weak on Royal Enfield Bullets. Failure can rapidly lead to a top end seizure. As my journey will take me through some very hot climates, I am keen to monitor oil pressure.," said Gordon. "K300 supplied me with a Goodridge stainless hose and fixings to take a feed from the oil filter housing to an oil pressure gauge. The quality is superb and the fit perfect. Now I can easily monitor oil pressure, which gives me considerable peace of mind "
Gordon made a film about his journey, which featured his visits to community projects in India run by UK-based charities, Wateraid and JBF.
"My trip should help raise awareness for the outstanding work these organisations do. I have supported Wateraid for a number of years. Their work is extraordinary. As a parent, I find it abhorrent that millions of children die each year simply because they have no access to safe drinking water." He continued: "JBF is a Scottish-based charity run by volunteers. Their work involves educating street children in Delhi. Their approach is both inspiring and heart-warming."


The Goodridge hose comes pre-fitted with a stainless
female swivel connector and adaptor at the feed end.

A simple home-made alloy bracket holds the oil pressure gauge in place.
The Goodridge hose comes pre-fitted with a BSP connector to fit a Smiths gauge.