Goodridge Brake Lines Hoses and Fittings
Customer Projects
Below are a few of our customers projects using Goodridge hoses.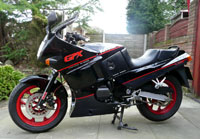 Kawasaki GPX600R rebuild.
A frame up refurbishment of this 1988 Kawasaki GPX600R, first registered on the 1st August 1988 and having completed over 21,000 miles it underwent a thorough refurbishment including a set of Goodridge brake hoses.
Charlie Broomfields: 27 Litre Rover SD1
Mating a Rover SD1 body and a Rolls Royce Meteor engine from a Centurion tank is not an easy task, especially when you consider the Meteor engine produces 650Bhp from its 27 litres as standard.
Gordon May: 1953 Royal Enfield
Motorcycle author and classic bike devotee Gordon May embarked on a two month ride from Manchester, UK, to Chennai, southern India, in August 2008.